Cashflow is the bloodline to any business and we face challenging times. During and Post the Covid Crisis, Posfin Capital are here to help steer your business through as efficiently as humanly possible.
The Coronavirus Business Interruption Loan Scheme, known as CBILS, now remains open for applications until March 31st 2021.
No Repayments at all for first 12 months!
Aimed at companies that have been trading for 12+ months, need finance for growth beyond Bounce Back loans, but are likely to get turned down by their bank
In March 2020 in response to the coronavirus pandemic, Chancellor of the Exchequer, Rishi Sunak, announced the Coronavirus Business Interruption Loan Scheme (CBILS) through the British Business Bank (BBB). The aim of CBILS is to support businesses in urgent need of bank funding by providing lenders with a guarantee of 80% of loan value to support lending to SMEs with turnover up to £45million.
A criticism of CBILS has been that funding has been too slow to reach companies that have immediate cash flow pressures.
Bounce Back Loan Scheme (BBLS)
On May 4th 2020, the Bounce Back Loan Scheme (BBLS), was launched to help SMEs access up to £50,000 based on a maximum of 25% turnover,  through an online application process as a self declaration.
CBILS & BBLS is available through a range of BBB accredited lenders listed on the BBB website.
Posfin can assist businesses as an FCA authorised broker as an intermediary feeder into the BBB accredited lenders.  Posfin is not an accredited direct lender. We offer support services and help businesses to access funding.
Posfin has direct relationships as a feeder to the panel of British Business Bank accredited lenders.
Posfin now has sound general knowledge around the Bounce Back Loans process and general landscape, offering assistance wherever possible to help push this much needed capital into businesses and therefore the broader economy.
Loans under BBLS are business loans and must only be used to provide an economic benefit to the business (e.g. working capital) and not for personal purposes.
The key features of BBLS are
To be eligible for a facility under BBLS, a business must be able to self-declare that it: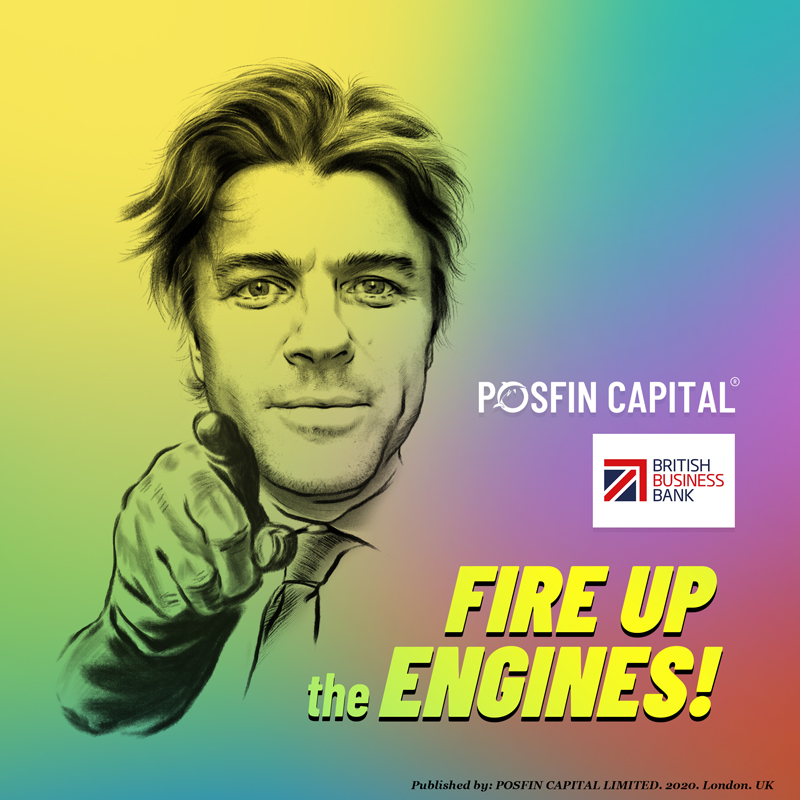 BBLS is available through BBB's accredited lenders and are listed on the BBB website.
The scheme is part of the UK government's temporary response to the economic shock caused by the coronavirus pandemic. It will initially be open until 31st January 2021 with the government retaining the right to extend this.
In the first instance, businesses should approach their own provider – ideally via the lender's website. Businesses may approach other lenders if they are unable to access the funding they require.
Applications will be by way of an online application form which includes a self-certification from the applicant business that it is eligible for a loan under BBLS. If a business is eligible, there may be some fraud prevention, Anti-Money Laundering (AML) and Know Your Customer (KYC) checks carried out by the lender.
The lender has the authority to decide whether or not to offer finance, but the intention is very much that this is a quick and easy process for eligible businesses, with cash being advanced "within days" according to HM Treasury.
BBB asks that any questions are directed by businesses to their current providers, not BBB directly. The BBB website has a lot of supporting information including helpful BBLS FAQs for businesses.
If you have any queries regarding business funding (under BBLS, CBILS, CLBILS or otherwise) please do not hesitate to contact one of our team by clicking on the BUTTON below and providing your basic details and query.
A member of our team will be in touch with you
usually within one business day
The information on this site about the BBLS and CBILS schemes is provided as a general guide only. Whilst POSFIN try to ensure that all information on this site is accurate and up to date, this cannot be guaranteed. The information on this site should not be relied upon or construed as constituting professional, financial or legal advice and Posfin Capital Limited disclaims liability in relation to its use. You should seek appropriate legal advice before taking or not taking any action.